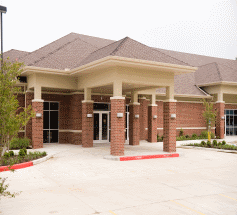 Opened in summer 2011, Surgery Center of Zachary (SCZ) is an 8,300 square foot state-of-the-art facility focusing on outpatient procedures. It is specifically designed for outpatient procedures with two well-equipped operating rooms and one procedure room. The patient-friendly design of the center ensures optimum flow and maximum privacy. SCZ provides same-day surgeries at a reasonable cost and savings to patients and private and commercial payors. Outpatient surgery requires less time, allowing patients to return to their families and work schedules faster. SCZ is a safe, reliable, and comparable alternative to a hospital with the added benefits of convenient parking, expedited registration, and a dedicated staff of knowledgeable healthcare professionals. Patients and physicians experience all of this in an environment designed for efficiency, comfort, safety, and privacy.
For Physicians
Surgery Center of Zachary offers a great alternative for physicians to perform outpatient procedures. With state-of-the-art-technology and equipment, SCZ offers physicians the resources they demand to perform at optimal levels. Physicians benefit from the comfortable surroundings centered on efficient workflow, safety, and patient privacy. With a knowledgeable and experienced staff, SCZ provides an excellent experience for its physicians and its patients. The efficient, well-managed environment allows physicians to focus solely on providing exceptional care and service to their patients.
For Patients
Patients who have their procedures performed at Surgery Center of Zachary enjoy the convenience of a centrally located facility with easily accessible parking and a streamlined registration process. The facility offers an inviting and comfortable environment designed for efficiency, comfort, safety, and privacy. Patients can rest assured that the friendly and knowledgeable healthcare professionals at Surgery Center of Zachary will treat them with the utmost care and respect throughout their procedure, as outcomes and patient satisfaction are the true measures of our success.
Surgery Center of Zachary has met State and Federal licensing standards to qualify for Medicare certification. Our center is accredited by the Accreditation Association for Ambulatory Health Care (AAAHC) and is a member of the ASC Association.
Surgical Procedures Performed at Surgery Center of Zachary